Source: World Health Organization, Rational use of personal protective equipment (PPE) for coronavirus disease (COVID-19), Interim Guidance March 2020
Drivers who are involved in the transportation of (suspected) Coronavirus patients need to be protected. Fleet managers or dispatchers should ensure that the drivers are practicing prevention and mitigation measures to minimize the risk of contracting the virus.
The most effective preventative measures include:
performing hand hygiene frequently with an:
- alcohol-based hand rub if your hands are not visibly dirty
- or with soap and water if hands are dirty;
avoiding touching your eyes, nose, and mouth;
practicing respiratory hygiene by coughing or sneezing
- into a bent elbow or tissue and then immediately
- disposing of the tissue;
wearing a medical mask if you have respiratory symptoms and performing hand hygiene after disposing of the mask;
maintaining social distance (a minimum of 1,5 metres) from persons with respiratory symptoms.
Additional precautions are required by drivers involved in patient transport to protect themselves and prevent transmission in the healthcare setting. Precautions to be implemented by health care workers caring for patients with COVID-19 include using PPE appropriately; this involves selecting proper PPE and being trained in how to put on, remove, and dispose of it.
WHO recommends the following PPE for drivers of ambulances or transfer vehicles: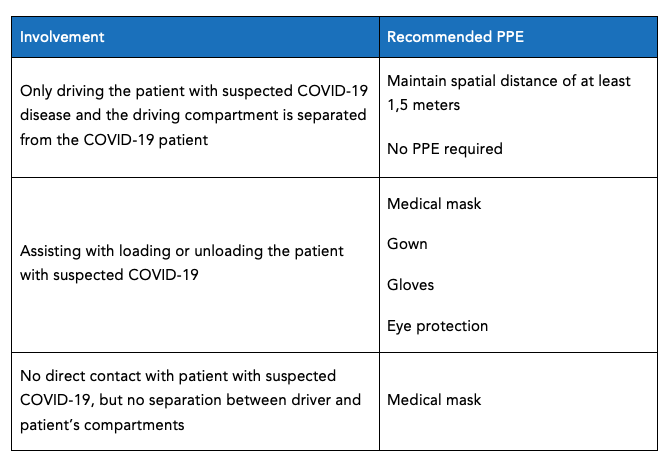 For more information about the use of PPE and the full article, please check WHO's website.